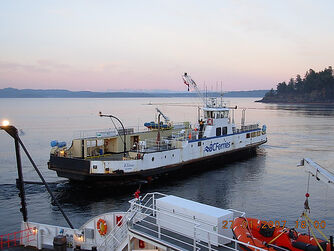 The Klitsa is the first of the four K Class ferries that are owned and operated by the Canadian ferry company,
BC Ferries
. She was built in 1972 at the Vancouver Shipyards as the Denman Queen. She is considered as an extra vessel, as she does not see regular service but will assist on the route linking Chemainus with Thetis Island and Kuper Island. Although four K Class ferries operate for
BC Ferries
, another two formerly served for TransLink. Her sister ships that operate for BC Ferries are the
Kahloke
, the
Kwana
, the
Kuper
. The other two that used to operate with TransLink are the
Kulleet
and the
Klatawa
.